Welcome to PAWS!
HAPPY 40TH ANNIVERSARY PAWS!
We are a registered charity with a no-kill policy dedicated to helping homeless, abused and abandoned animals. We have been doing so since 1972.
Please take the time to tour our website to learn more about us. You can also meet our residents for adoption, read about some of our 'Happy Tails' and find out how you can help animals in need.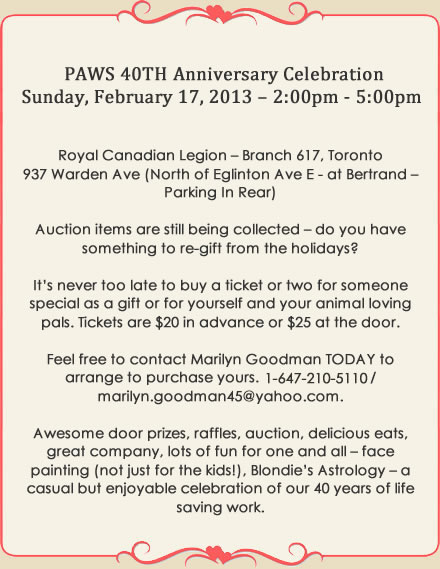 ---
CAT OF THE MONTH - December 2012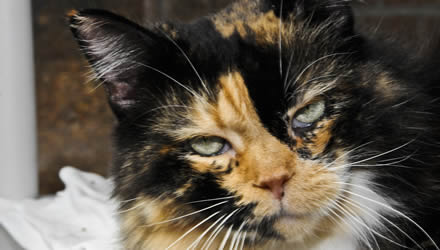 PAMMY
Introducing ... PAMMY! She is one of the most beautiful cats of all times - pretty sure you will agree and YES she is in search of her loving, forever home BUT there's a catch! She and her Daughter, Peaches are insisting on being adopted TOGETHER - both are spayed, in excellent health and exceptionally friendly/loving. :-) Can you give these two girls a loving home? They are a bonded pair who are inseparable and who will bring many years of happiness to you and your family. They would be so happy to find their FOREVER HOME before the Holidays!
---
CAT OF THE MONTH - June 2012
ZEPPELIN
Hello one and all!! My name is Zeppelin. I am an awesome young male cat (approx 2 years old) who is in excellent health and in search of my forever family. Somehow I ended up in a high-kill facility in southern Ontario. It was a terrifying experience that I will never forget. Now that I am over the cold I caught there, my friends at PAWS are reaching out for help in raising the funds to neuter me. I will also need my rabies vaccine and to be viral tested (to make sure I am free of feline aids and feline leukemia). Before my awesome new family takes me home, I will also be re-dewormed and have Revolution applied to ensure that I do not have fleas or ear mites. If you can contribute we are trying to raise approximately $195 at this time to cover these expenses. I thank you in advance for caring. Donations are very gratefully accepted (securely) on our website at www.pawscanada.org (your tax receipt is automatically generated by Canada Helps). You can send your gift to PAWS c/o 2300 Lawrence Avenue East, Box 73039, Toronto, ON M1P 2R2 (tax receipts for all donations received in 2012 are issued the following February) or you may make a contribution directly to one of our Veterinarians (please call Kim today to find out who will be neutering me and you can call that Vet directly with a donation I cant thank you enough!).
Please consider helping me. As much as the humans here at PAWS are kind and wonderful, I am very excited about finding myself a new home with people who will love and cherish me for many, many years. I have so much to offer. Thanks for reading my story. If you are unable to adopt me please put your thinking cap on in the event you know someone who can. Kindly also give serious consideration to sponsoring me or one of my pals at PAWS its the only way their life saving work can and will continue. Happy 40th Anniversary PAWS! Thank you for saving my life. You see I was scheduled to be killed and PAWS made sure that didnt happen.
May 2012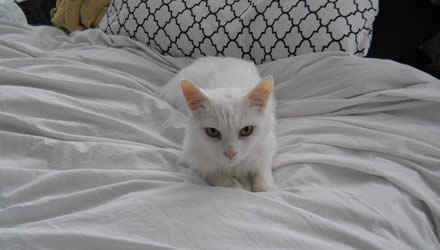 JULLIAN (has been adopted)
---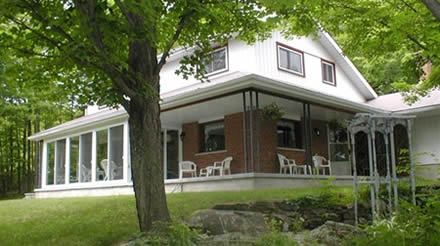 The PAWS Safe Haven
A Tranquil Place Where Our Rescues Reside